Largest timber construction project will be built in the Netherlands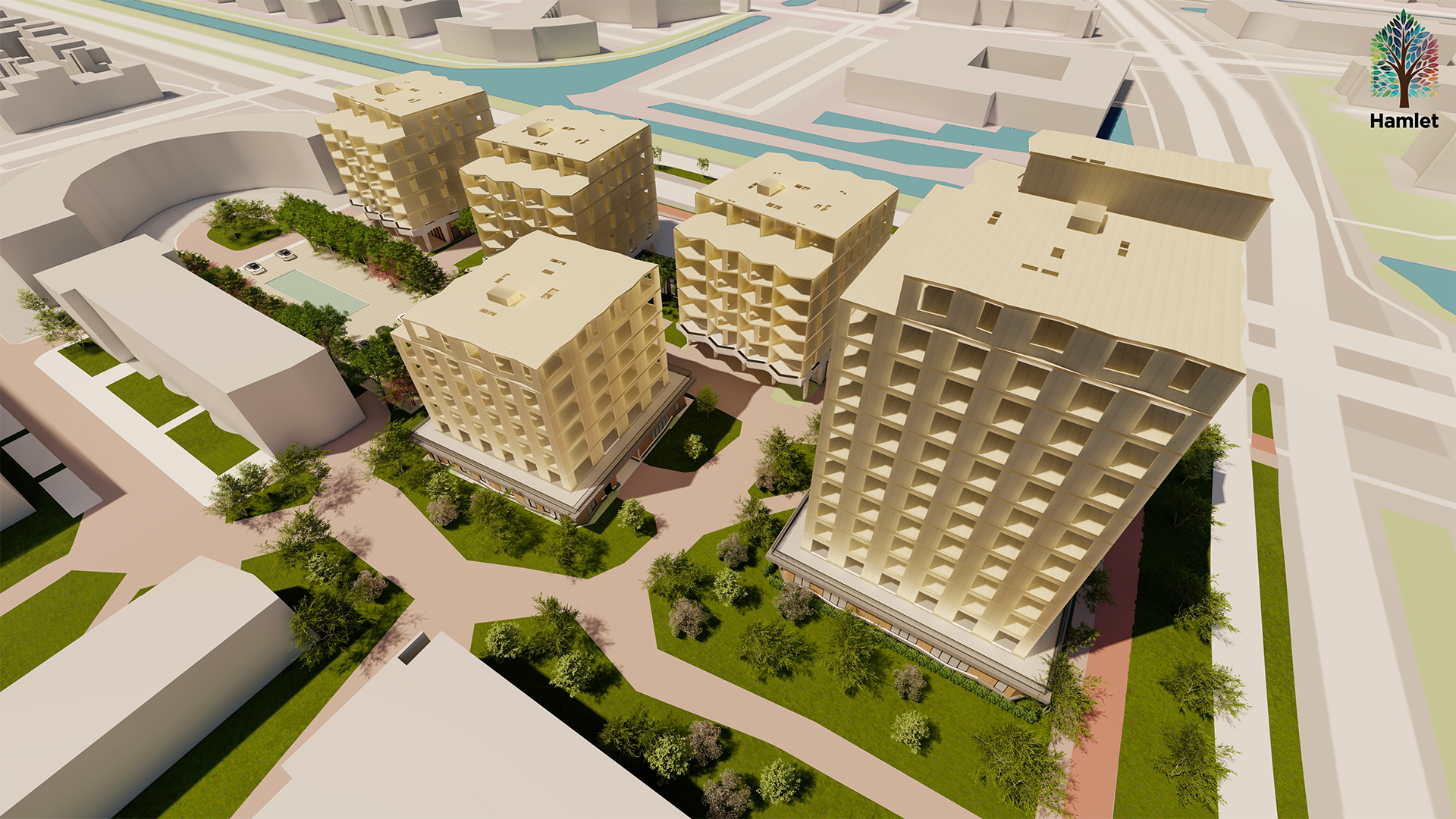 Press Release - September 20, 2022
The largest wooden housing project in Europe, with a total floor area of 18,700 m2, will be built on the edge of the center of Heerhugowaard, The Netherlands, in less than a year. The required 7,300 m3 of wood comes from sustainably managed forests.
The specialized company Hamlet Design+Build Technology from Haarlem is responsible for the design and realization of the wooden structural shell.
The initiator of the project is the North Holland project developer M.J. De Nijs Projectontwikkeling.
The large-scale timber construction project will consist of 5 residential towers with 200 apartments. The residential towers, of which the highest has 12 floors and is almost 42 meters high, will be constructed entirely from the first floor in CLT (cross laminated timber), including the lift shafts and stairwells.
Structural shell-first approach
Hamlet is fully committed to designing and building CLT projects, and in particular multi-layer housing.
In order to guarantee a cost-efficient building, Hamlet works according to the 'design for assembly' principle. "It is important that we arrive at the most efficient design in terms of construction, production, logistics and with regard to ease of construction and construction time. It's an integrated process," says Hans Lormans, founder and director of Hamlet. "We start with the core, the upper floors and the load-bearing walls. This means that we first design the structural shell and only then we start fleshing out the floor plans and the facades", explains Hans Lormans.
Cooperation
The Hamlet Design+Build Technology team consists of architects, specialized wood constructors and production and assembly specialists, but they also frequently collaborate with external architects, such as in the project in Heerhugowaard, where the Boparai and Mecanoo offices were responsible for the architecture.
Economic feasibility
According to Niek Schaap, senior project developer at De Nijs Projectontwikkeling and responsible for the Woodstone project, the approach of this project is indeed different than usual, but certainly worth repeating. "By designing from the inside out, you get an efficient structural shell and a very clear starting point for the architects who work on the houses and facades. Solutions must then be found within the framework of the structural shell. That takes some getting used to, but you have the certainty as a developer that the project is technically and economically feasible with regard to the CLT application", says Niek Schaap.
De Nijs appreciated the collaboration with Hamlet, because they are now also working together on a project in Amsterdam.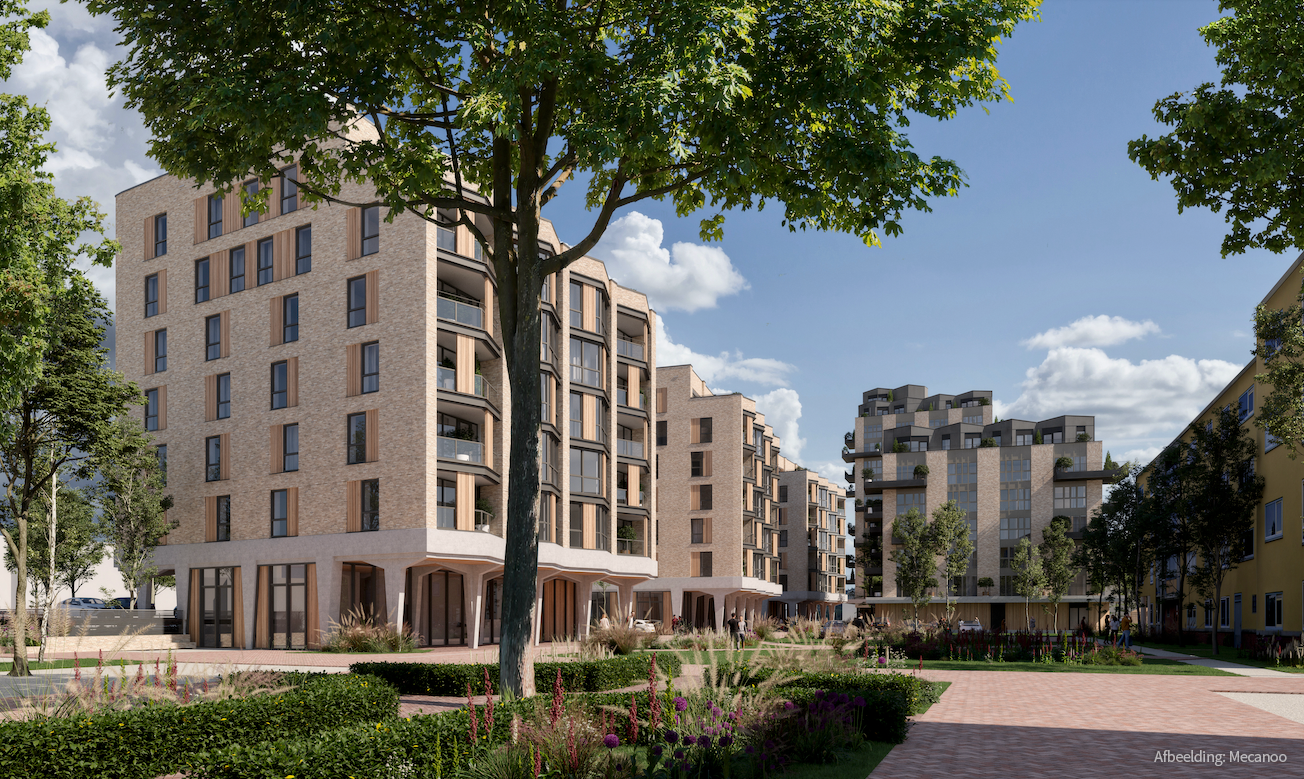 Facts & Figures Heerhugowaard project

Total surface GFA

18,700 m2

Amount of wood used

7,300 m3

CO2 storage in wooden structural shell

5,562 tons

CO2 savings by not building in concrete

4,900 tons

Assembly time of CLT structural shell

28 weeks

Partners

Developer

M.J. De Nijs Projectontwikkeling

Design and engineering of CLT structural shells

Hamlet Design+Build Technology

Design house plans and facades residential towers

Mecanoo and Boparai

Production and realization of CLT structural shells

Hamlet Design + Build Technology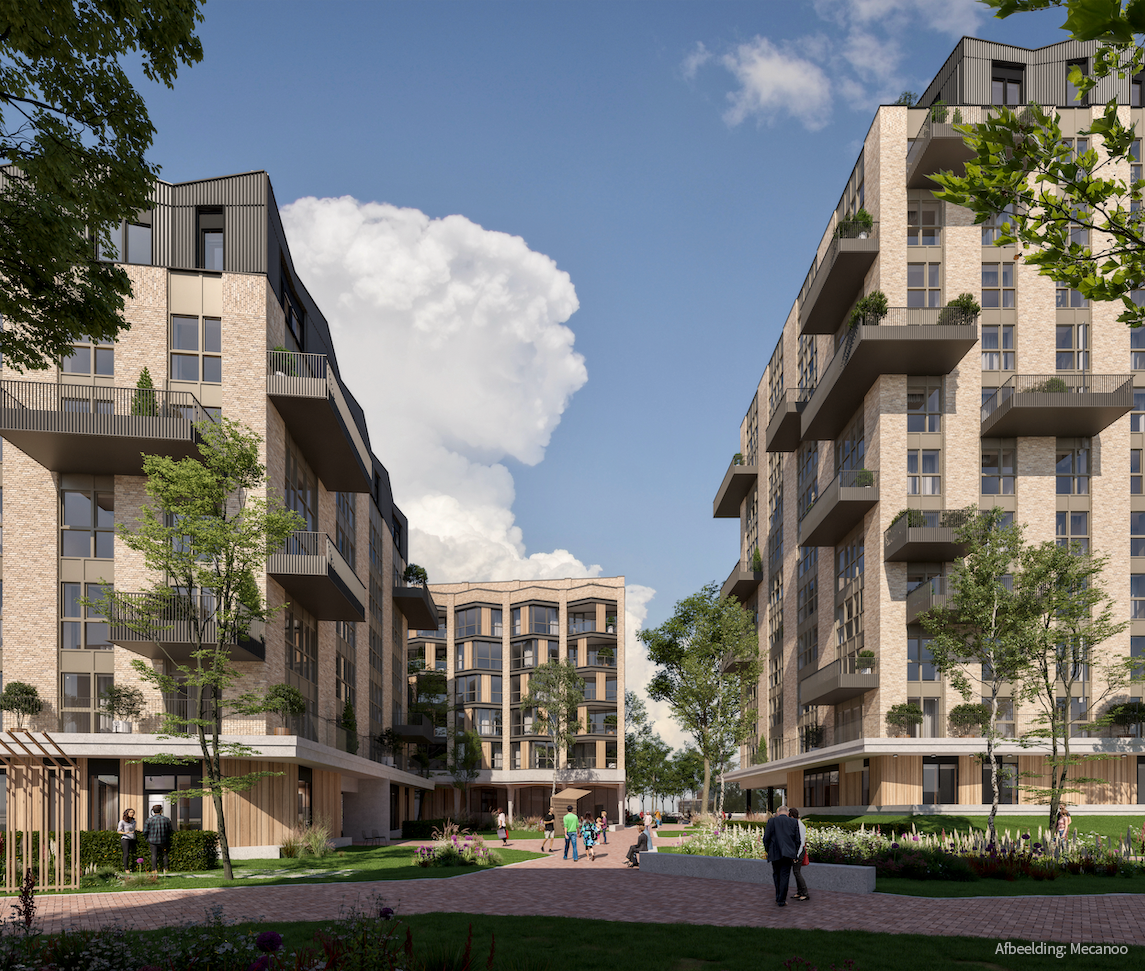 Note to the editor
For further information please contact:
Hans Lormans, Hamlet Design + Build Technology BV
Email: 7MkN4NiJ7UkN4NiJ7UkM4NiJ7QzN4NiJ7UjN4NiJ7MkN4NiJ7QkN4NiJ7EjN4NiJ7gjN4NiJ7ADN4NiJ7MzN4NiJ7UkN4NiJ7EjN4NiJ7gjN4NiJ
Mobile: +31 6 22208462
www.hamlet.nl
Images are free to use if referred to Hamlet