Circular and self-sufficient business building becomes reality
In some time, the Municipality of Haarlem will be the first municipality in the Netherlands to realize a fully wooden and self-sufficient multi-storey industrial building.
The innovative, three-storey building with a GFA of 2,375 m2 is currently a feasibility study and is an initiative of the circular business park MAAK Haarlem and Hamlet Design+Build Technology. Hamlet specializes in designing and building high-rise buildings based on CLT (cross laminated timber).
The fully circular building will be placed on top of an existing concrete substructure. The first floor provides 8 affordable business spaces of an average of 90 m2 with innovative and circular production companies as the target group. The second and third floors contain a total of 16 studios for creative professions such as industrial designers and software developers. A number of units can be linked both vertically and horizontally, allowing for growth within the building.
Because the building is built entirely of wood, there is CO2 storage (840t) instead of CO2 emissions, as is usual with a concrete or steel construction. In addition to CLT for walls, floors and roof, Siberian larch is used. Anthracite-colored Kingspan Evolution panels were chosen for the finish of the side and rear facades.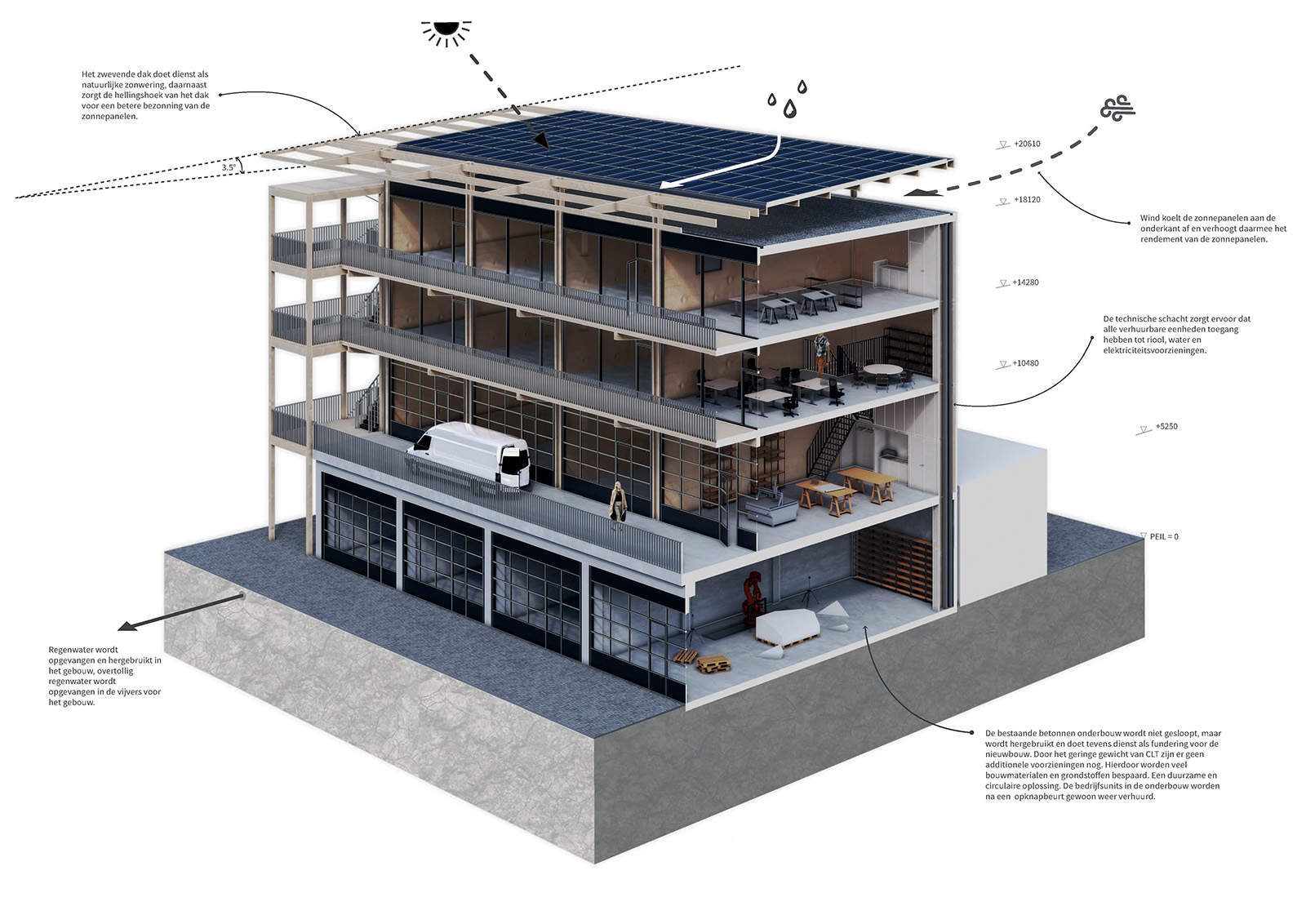 Energy supply
In the plan, the roof construction will be provided with 700 m2 of PV panels that are connected to an electrolyser with which the excess capacity of the PV panels will be converted into hydrogen. A fuel cell ensures that the building is supplied with electricity on less sunny days and in the evenings. The realization of this system is being carried out in collaboration with the French company Powidian.
The energy system will also be equipped with a heat exchanger, which can increase the total efficiency of the fuel cell to above 90%. The heat obtained is stored in an underground water basin that will provide heating for the building.
At the MAAK site, a test is currently being conducted with a biomeiler installation (composting wood chips in a closed system equipped with a heat exchanger). The heat production of this biomeiler is also connected to the underground basin and additionally contributes to the heating of the building.
Half million liters of water
The 'off grid' concept has been further developed in the collection via the roof of more than half a million liters of rainwater per year, which is stored in two ponds that will be part of the further greening of the MAAK site. The rainwater will be used for flushing the toilets and for landscaping.
The concept will be further developed technically in the coming months.
In addition to this project in Haarlem, Hamlet Design+Build Technology is also preparing several housing projects in collaboration with developers.
Client: MAAK Haarlem
Concept, design and realisation: Hamlet Design+Build Technology BV